Tailoring Excellence: Seamless Creation, Scheduling, and Branding for Your Digital Classroom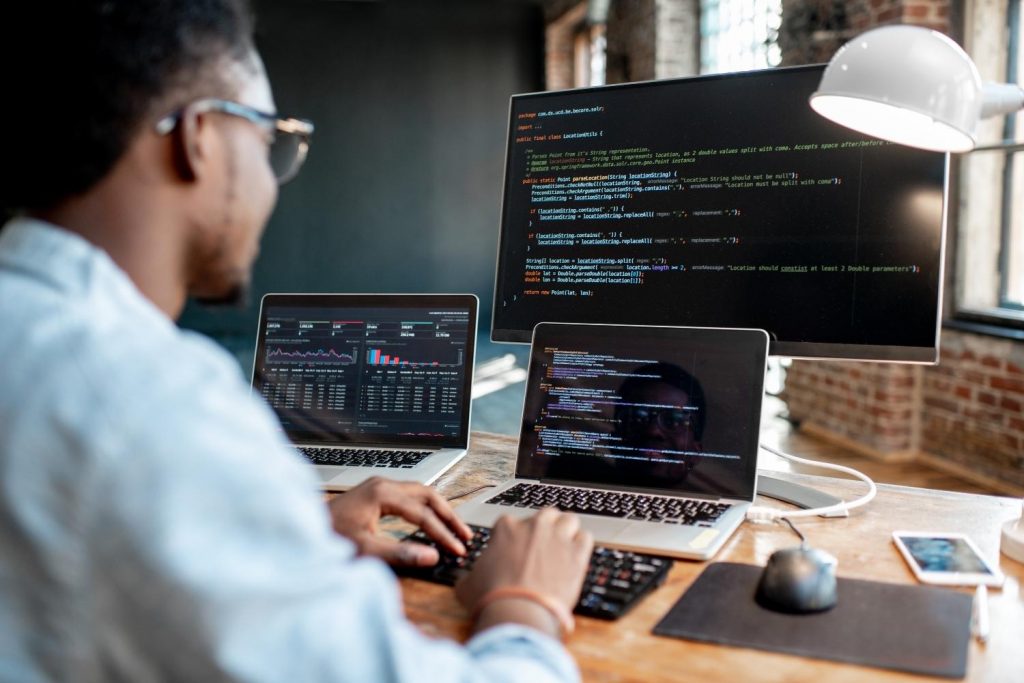 Wouldn't you like to design your online education programs in Coursera or Udemy format? We offer you an easy and user-friendly solution for creating your own training modules. You can easily design your training modules completely with your corporate identity elements, create classes and schedule the content you want to be in front of the user whenever you want.
What is a Training Module?
A training module is your entire training puzzle, consisting of items and learning flows designed for different learning purposes.
All training modules is consisting of at least two flows in which there are lots of items with different learning purposes. The flows can be designed as weeks, days, or any kind of group name up to your needs. Let us give you an example from one of our case studies named "Online Therapy Modules".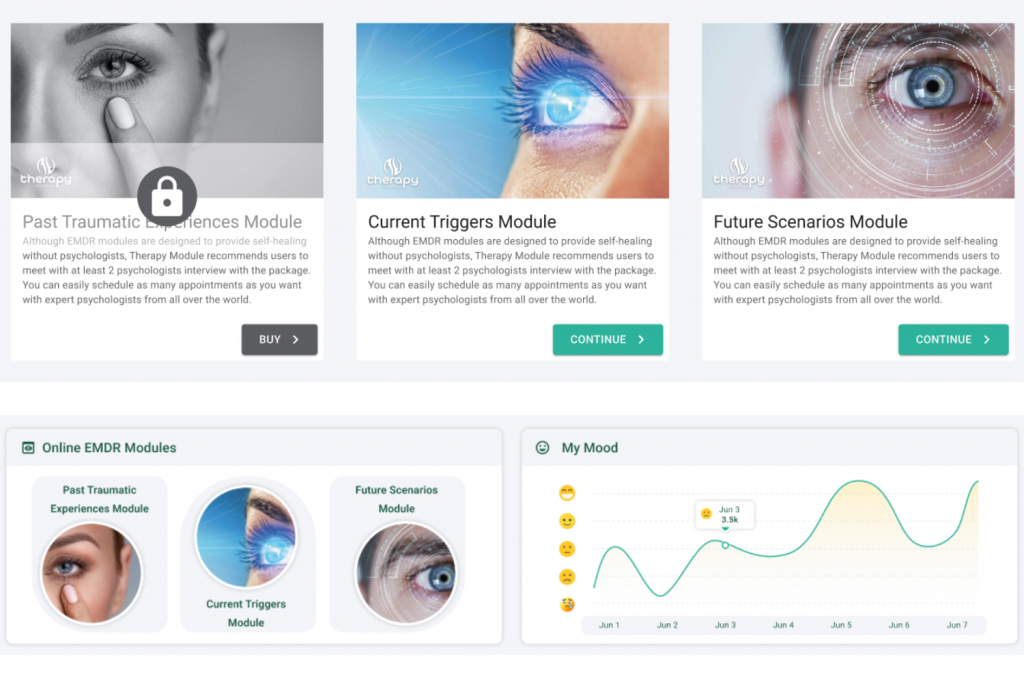 When you create your items and flows with the Training Module Creator, the portal automatically brings you which flows you can use for a module. All you need to do is to select the appropriate flows and name your modules. In the example, there are 3 modules created by Therapy Module experts.
Automatically Generated Module Plan
You can publish your module as soon as you create it. You can group and name it by weeks, days, months, or any other method you wish. In this example, you can see the "Past Traumatic Experiences Module" plan of the Therapy Module grouped by weeks. You just name it and save your flow in the relevant module. The portal will do the rest for you and bring you a ready-made plan. That's how easy it is.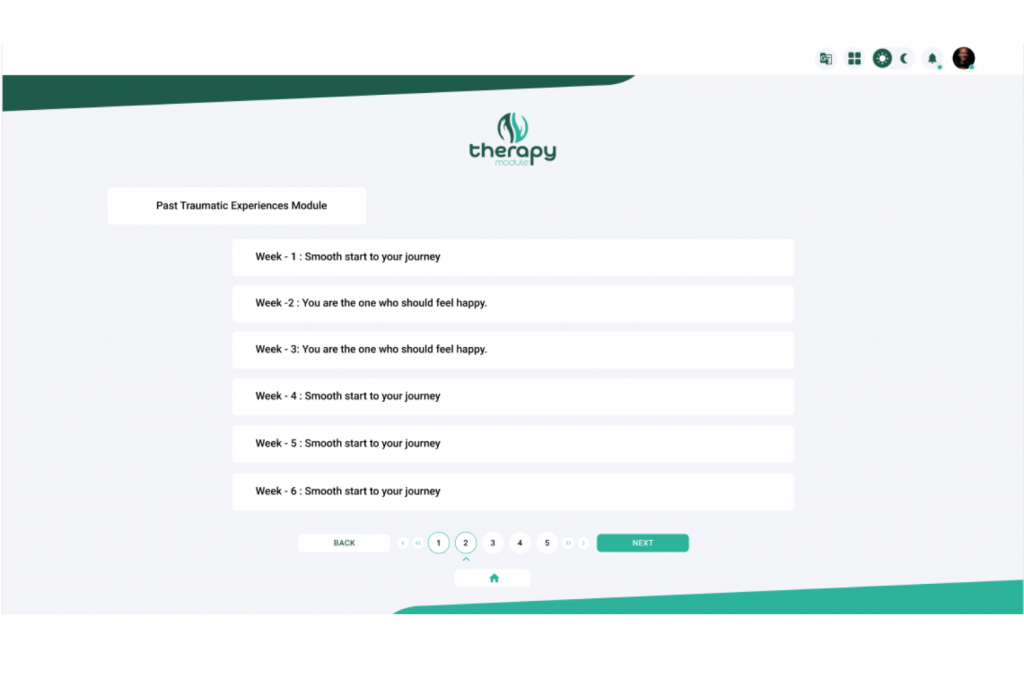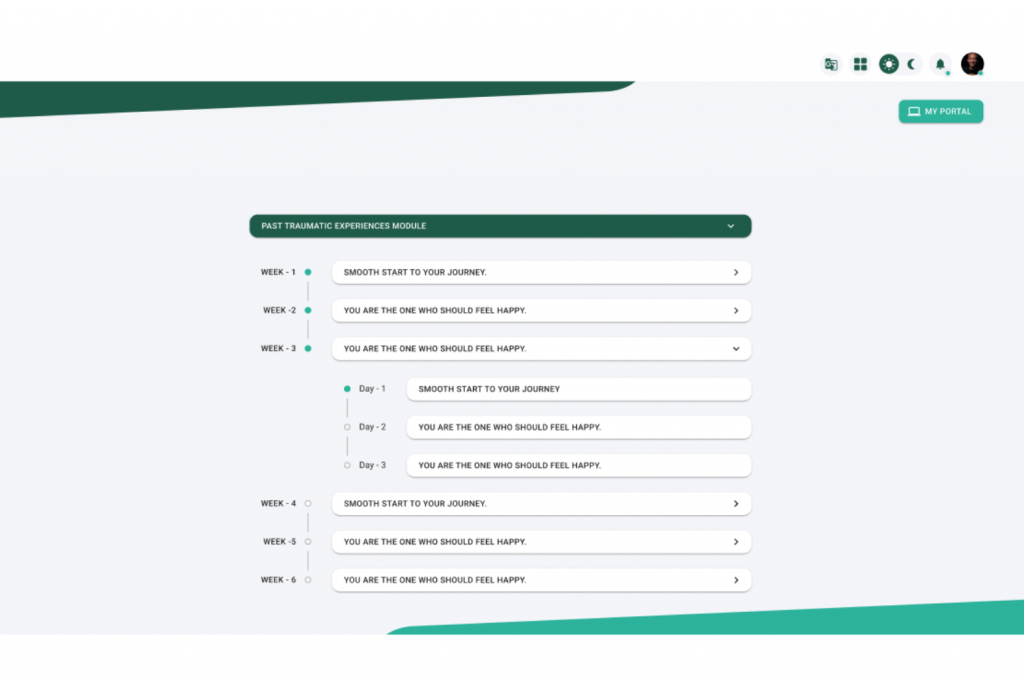 A training module contains flows that you name differently. You can also publish your flows in a certain hierarchy within the portal. In this example, Therapy Module experts have organized the flows as Weeks and Days in the "Past Traumatic Experiences Module". Within the 1-week flow group, they published different days as sub-flow groups. If your flows are ready, it only takes 1-2 minutes to plan it in the portal! The portal will automate the rest for you and bring you a ready-made training module.
Some Types of Flows You May Use
As we said before, a training module consists of learning flows created by you. If you wish, you can color your training program by using different flow contents and reach your goals in a healthier way. We have compiled some of these for you.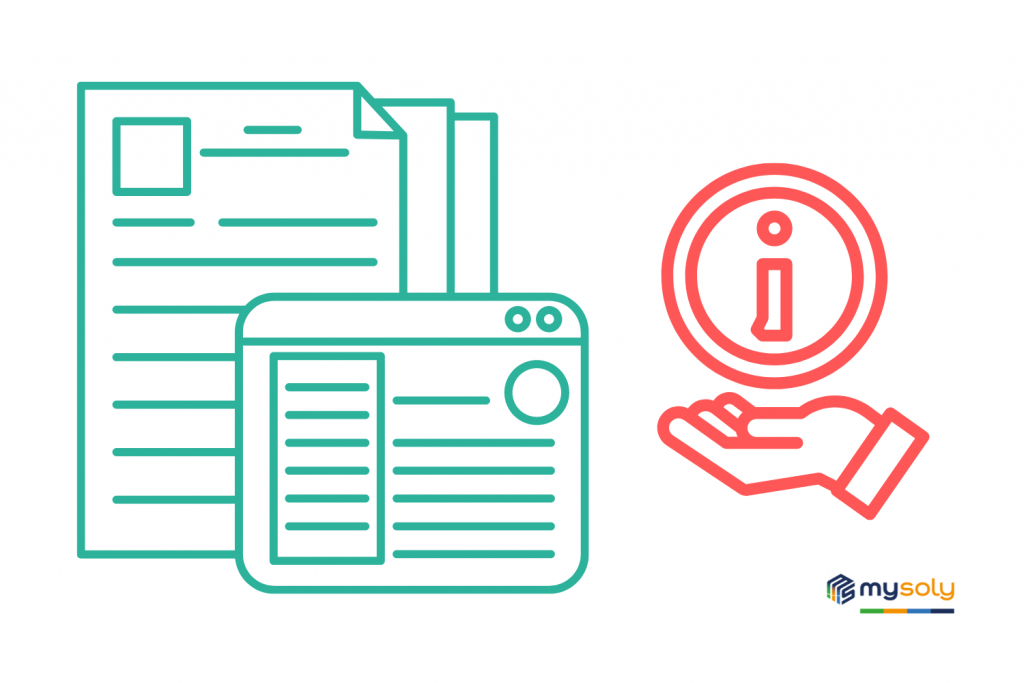 In this flow type, you can provide detailed information about the subject by using different item types (info-multimedia-yes/no, task, etc.) for your users or employees. Thus, users can learn about that subject at the level they wish.
Thus, users can learn about that subject at the level they wish.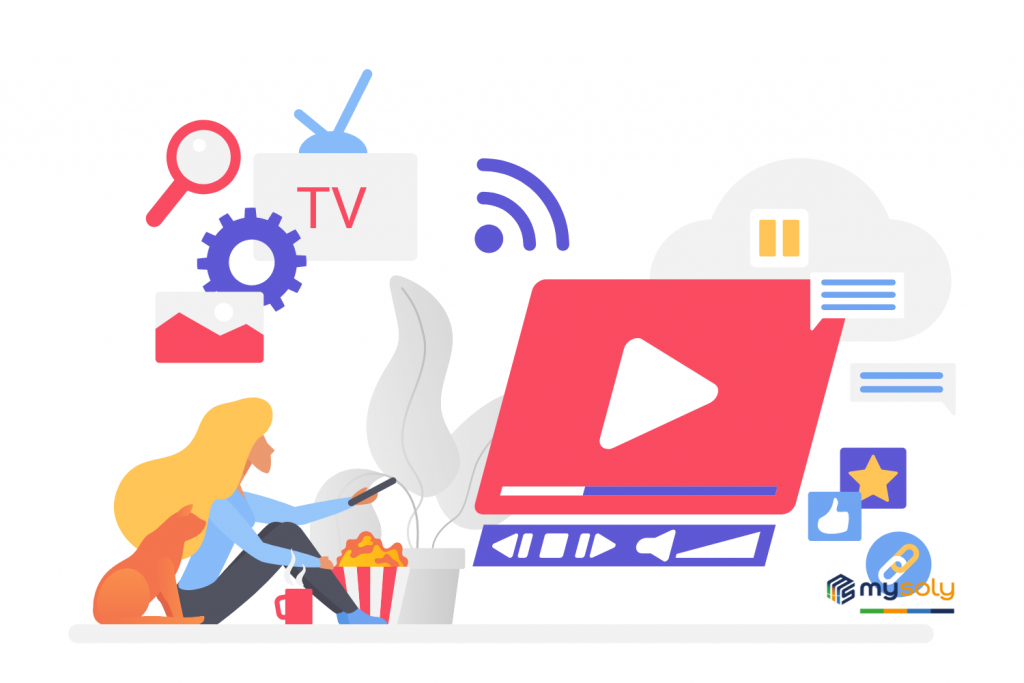 Learning processes sometimes require healthy mental rest.
Create different learning experiences with videos or audio tools that you can prepare for your users or easily add to your Flow with a direct link from the web.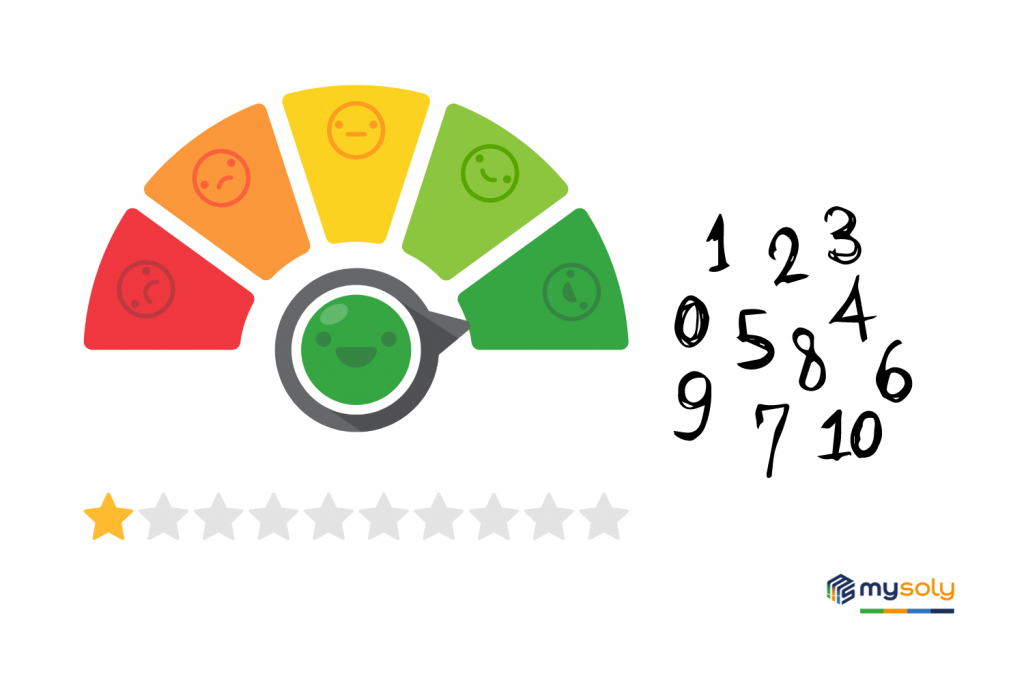 As with any training program, the developers of training modules may request detailed feedback from the user about their programs.
In this case, you can create a feedback flow and get feedback from the user about your program with different question items you will add to it.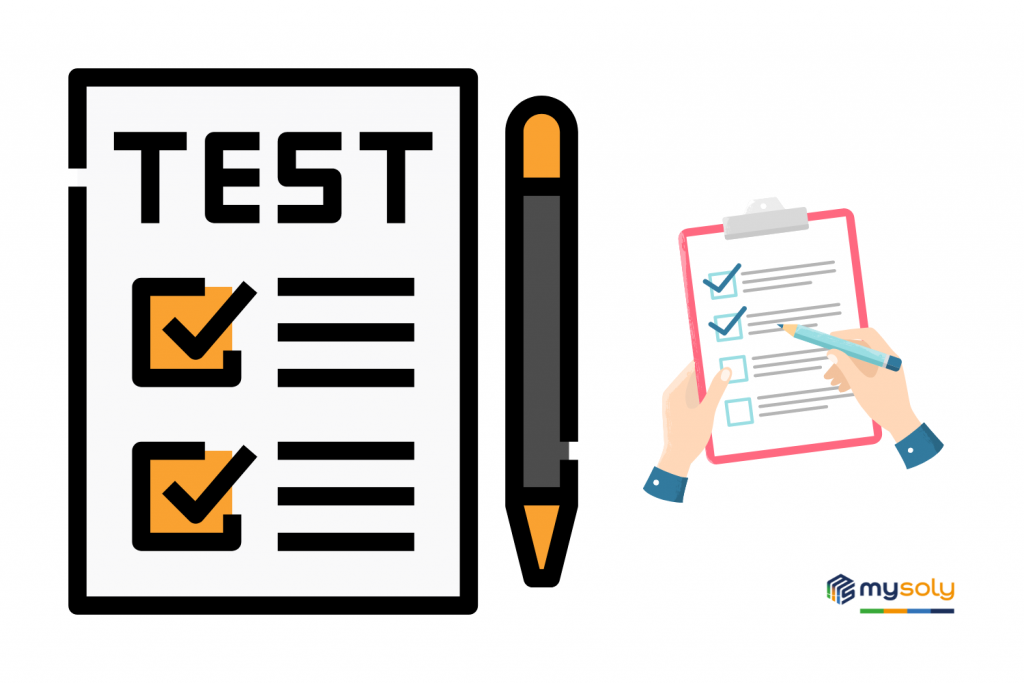 You are not sure whether your users who have completed your modules have achieved success in accordance with their learning objectives. Or do you think that they pressed the next button quickly and concluded the program before learning took place?
No problem. With the "Test Portal" features added to the Training Module Creator, you can add different test types to the end of a flow or a module within minutes and measure user success.
The items that you prepare will be the smallest piece in your learning puzzle!
Flows consist of contents that we call items. Each piece of content you developed in the flows is an item. These can be different types like info items, task items, or multiple choice items. All item types are ready to create with simple copy-and-paste or drag-and-drop options.
During the analysis step, you need to think about your specific needs to decide which item types are going to use. If you need to create a full course package with modules, these items will be your
This item type is specially designed for giving information to your users with or without images or videos. In this type, you may inform your users about the topic or title you choose.
Sometimes you need to give your users some extra tasks attached with links or multimedia. The users try to complete the task by following the steps you give in the task item.
Let your users type within their own words. Sometimes you may only give a statement or ask a question to get users' responses.
Keep your user's focus awake during the modules you design. Get short answers to understand whether they are still in the same basket!
This is the funniest item type to get immediate feedback from users. You may check their feelings and motivations during the process.
Sometimes emojis are not enough to give a score to the user. You may use the score scale item types to make your users give scores from 1-10.
All your modules should have an ending. Each module can be designed with at least three items and the last item should be the end items to cover up and continue with next!
The Features Our Customers Love
Design items (slides) with different features and learning objectives. Give your items your own style by using styling that you can find in a Word document.
Create flows by selecting the ones you want to use from your items. Divide the flows you have created into hierarchical subgroups by naming them. Like days and weeks.
Now all you need to do is to determine which flows you will use in your module. Plan your content as a package with the module creator feature. You can add as many flows and items under each flow as you wish.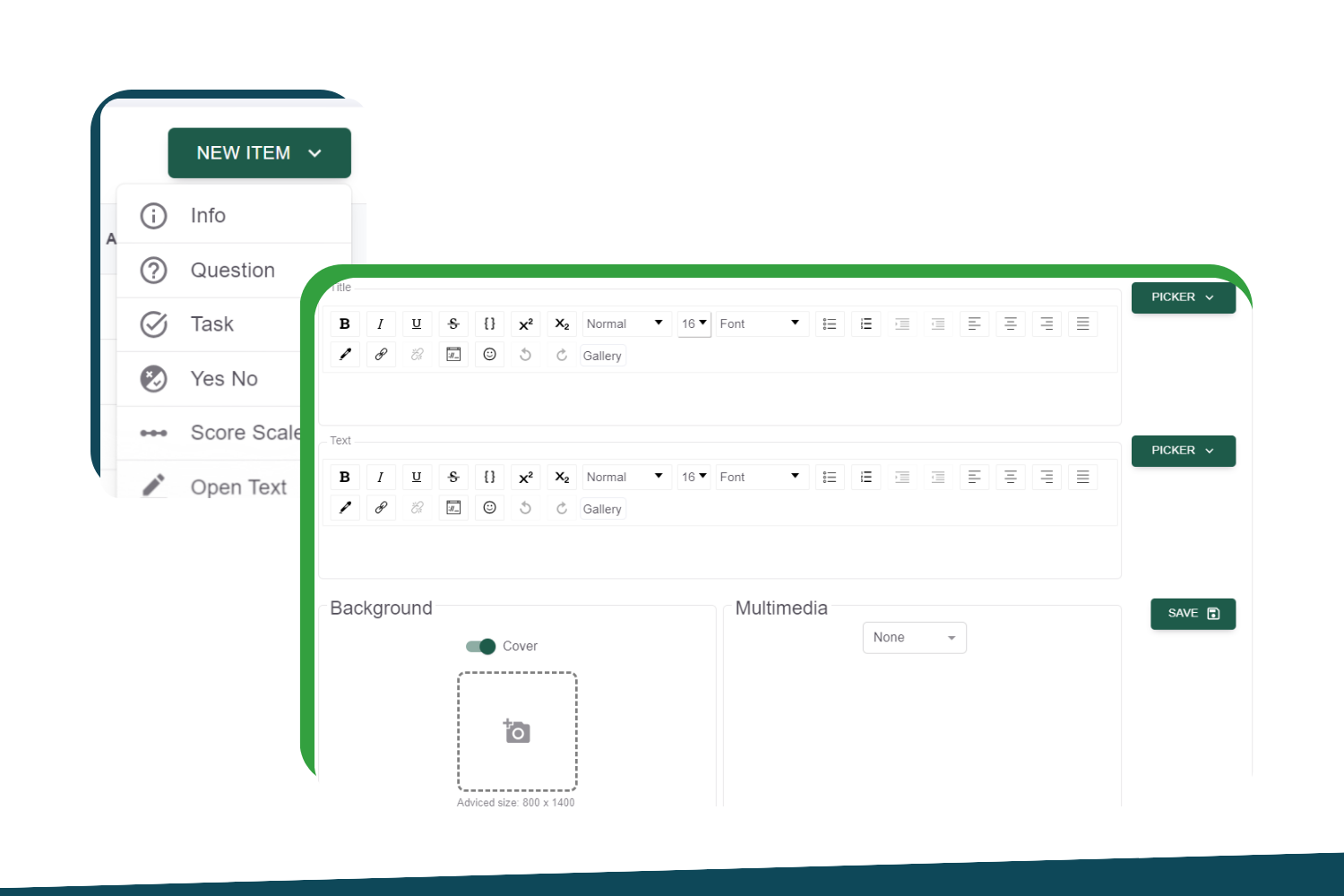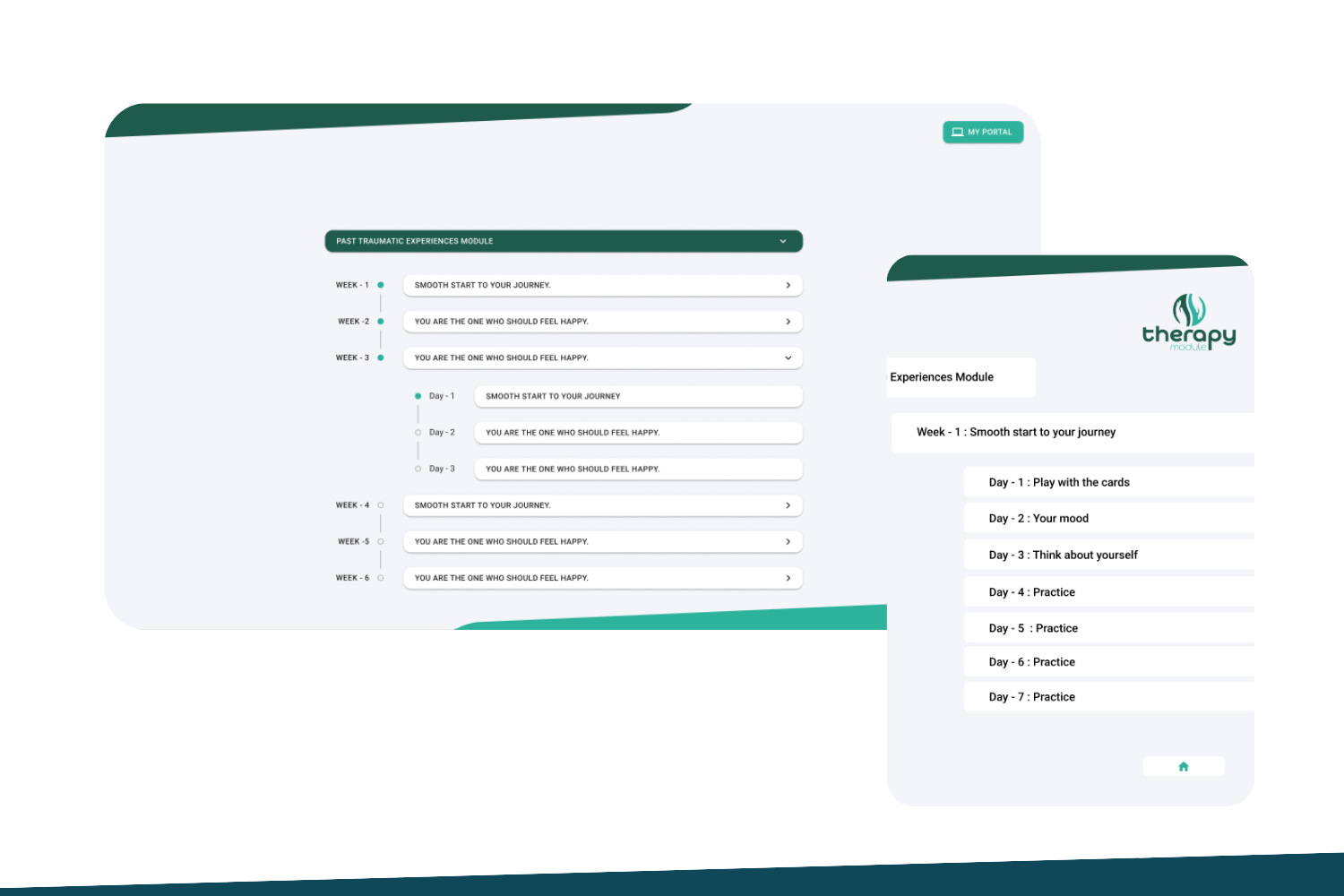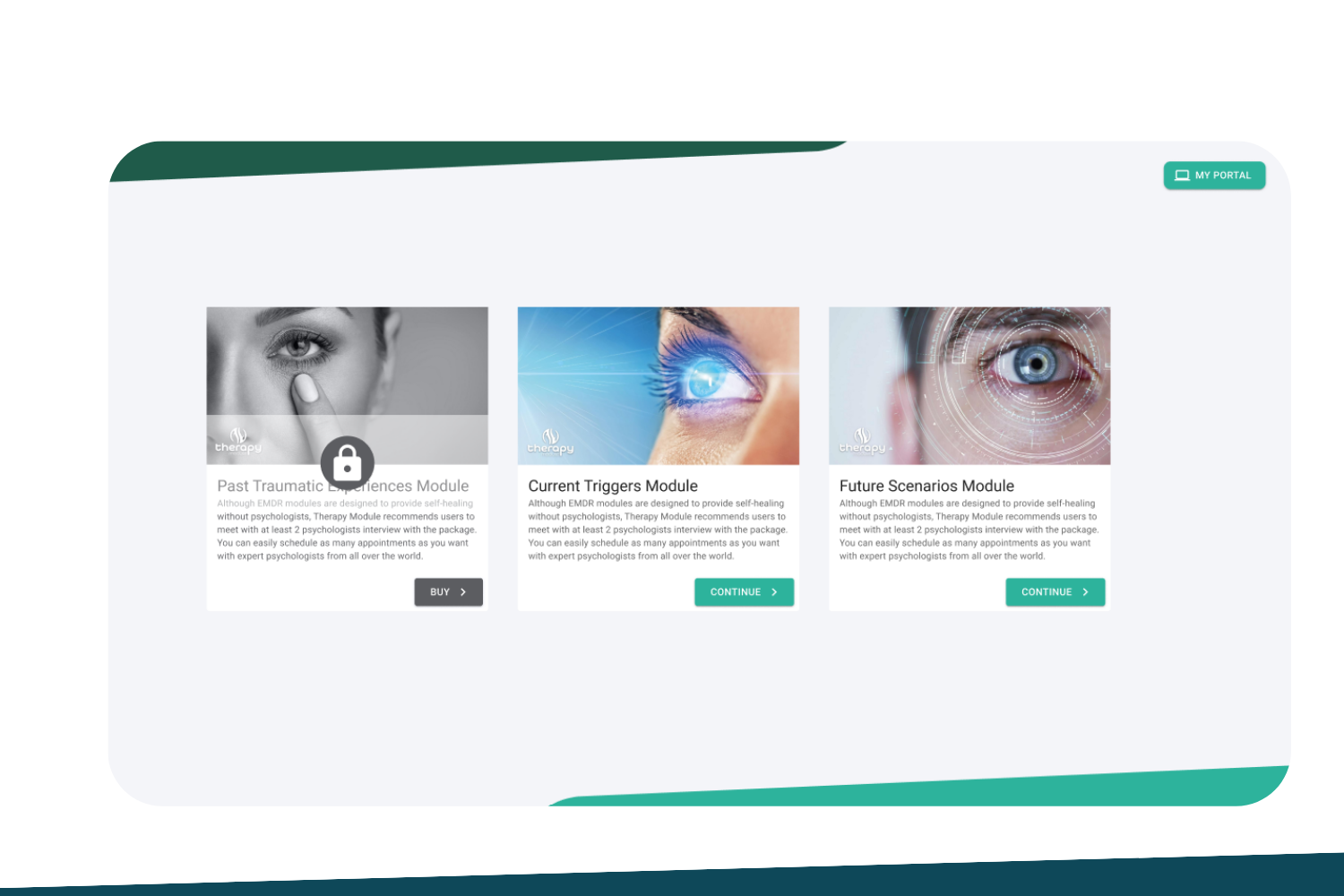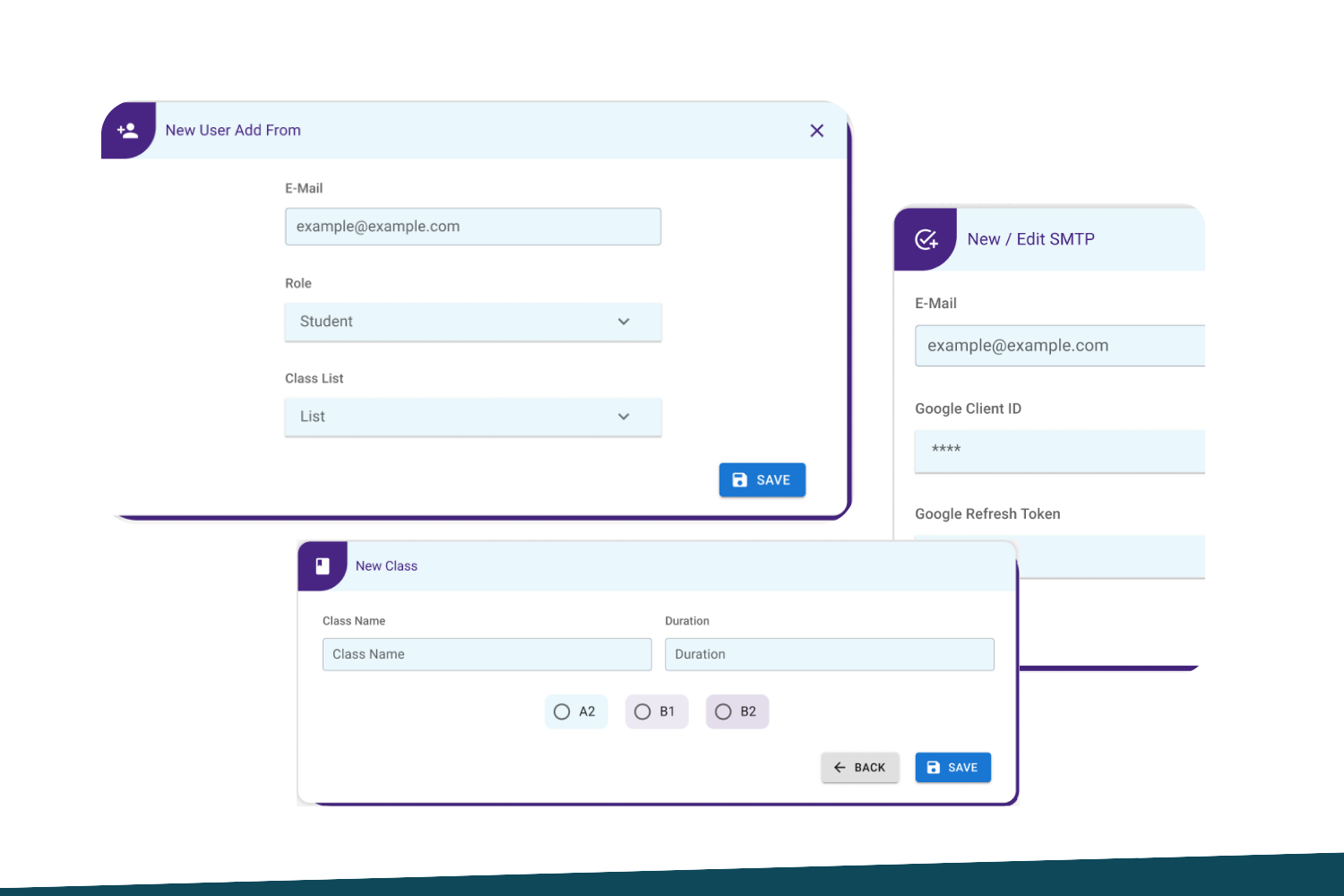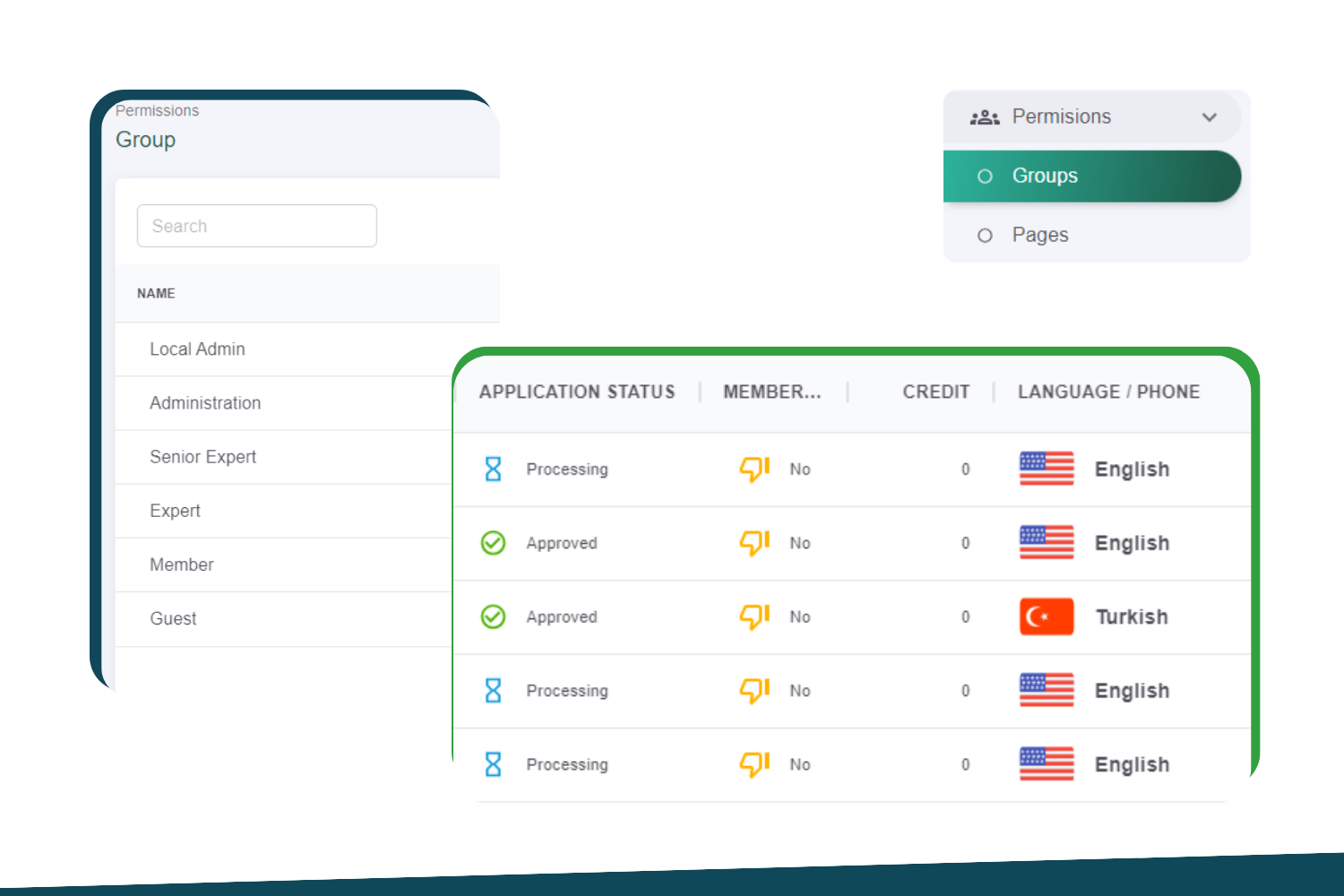 You don't need a software developer to manage your portal. All admin features are ready at your fingertips. You can add users, create different authorization groups and update users whenever you want.
Effortlessly customize roles and permissions for various users, ensuring that each individual has a tailored role designed specifically for them.
You don't have to publish all your content at the same time. You can fully open modules to any group you want, and you can show limited content to some groups or classes.
You can design each learning item in a different style from the others. You can create templates for this and save them to be used in future items.
You can design your Training Portal with your own corporate identity elements, colors, and logo. You can change these designs at any time.
You may want to broadcast to each user in their own language. All you need to do is create learning items and automatically translate them into the language of your choice.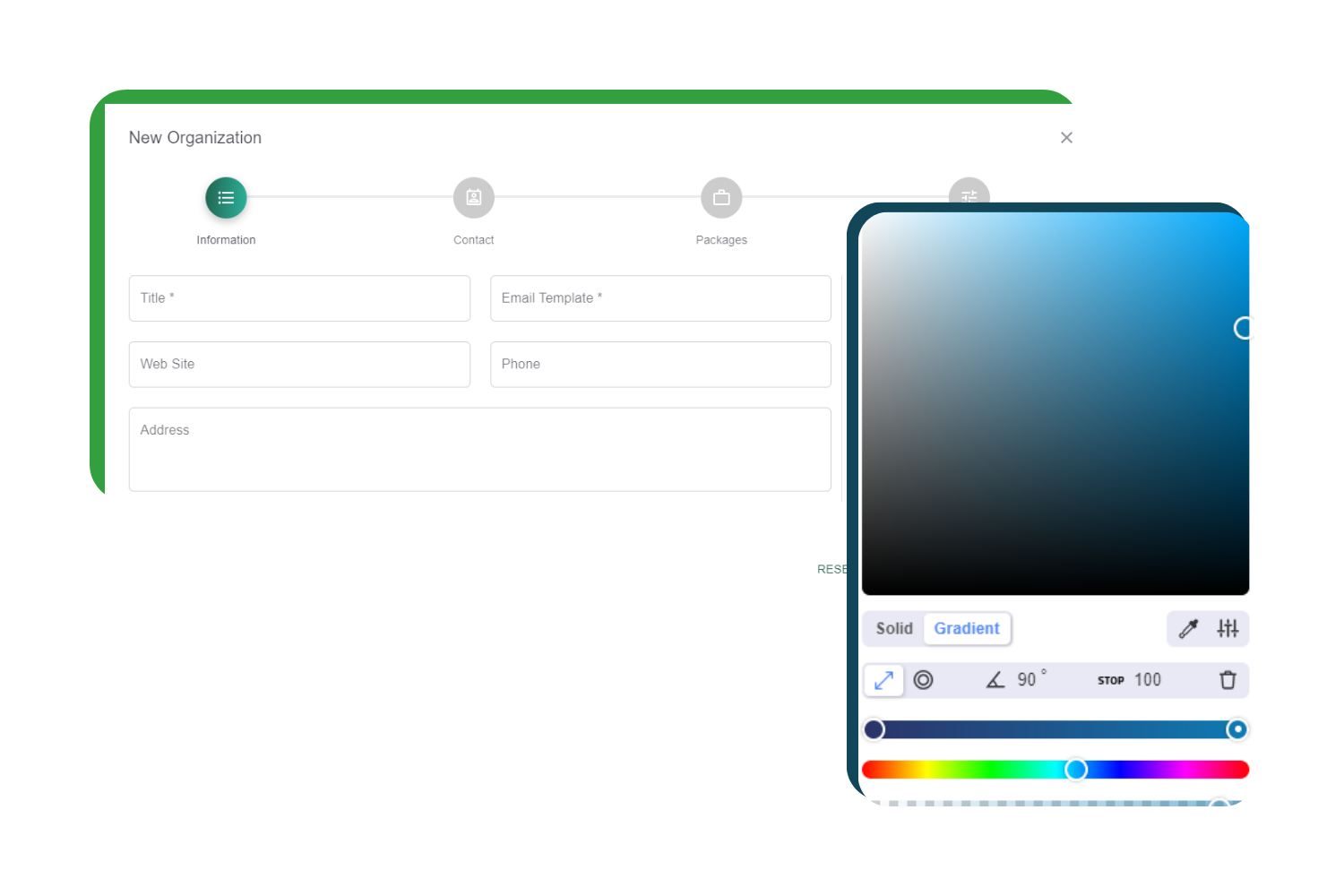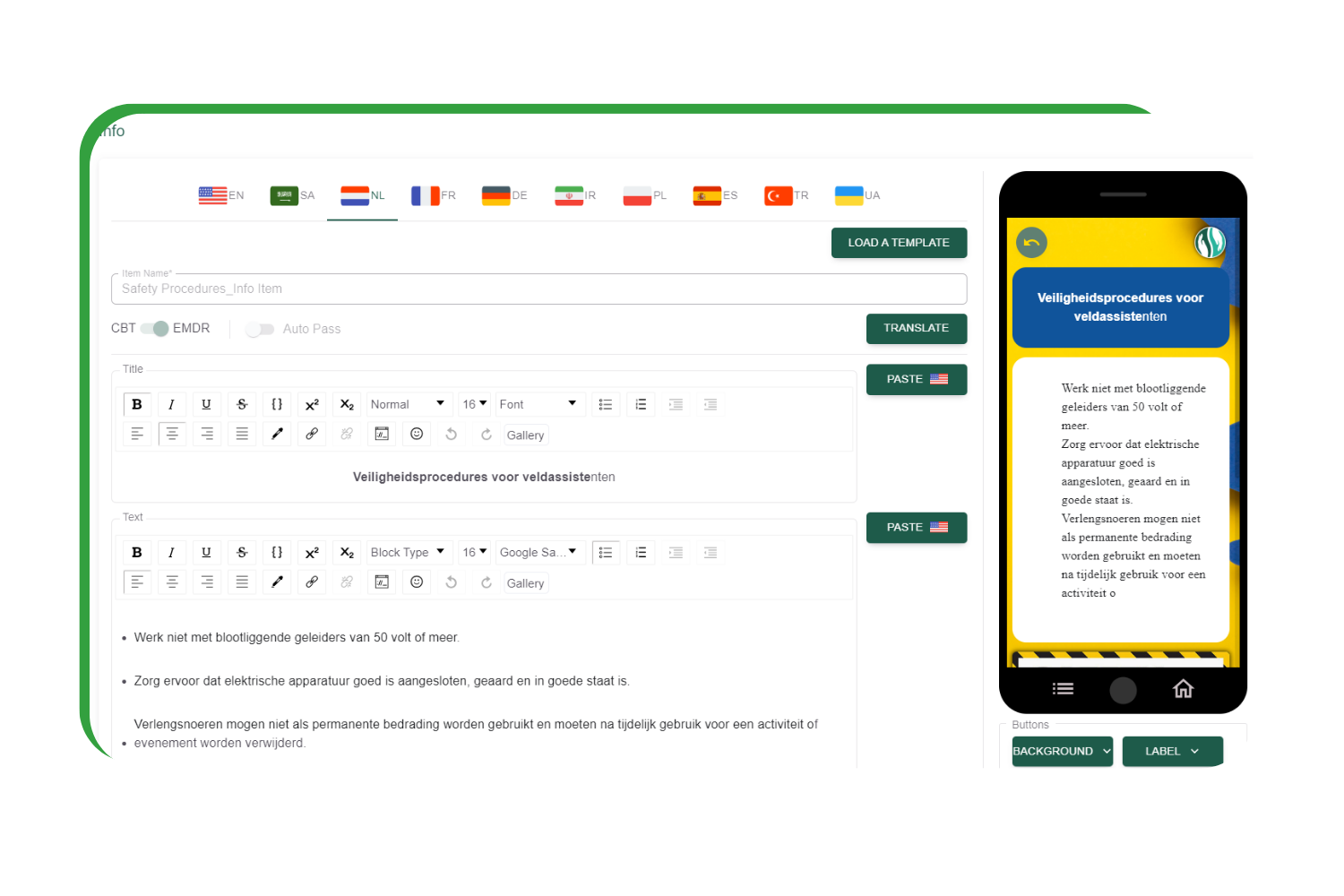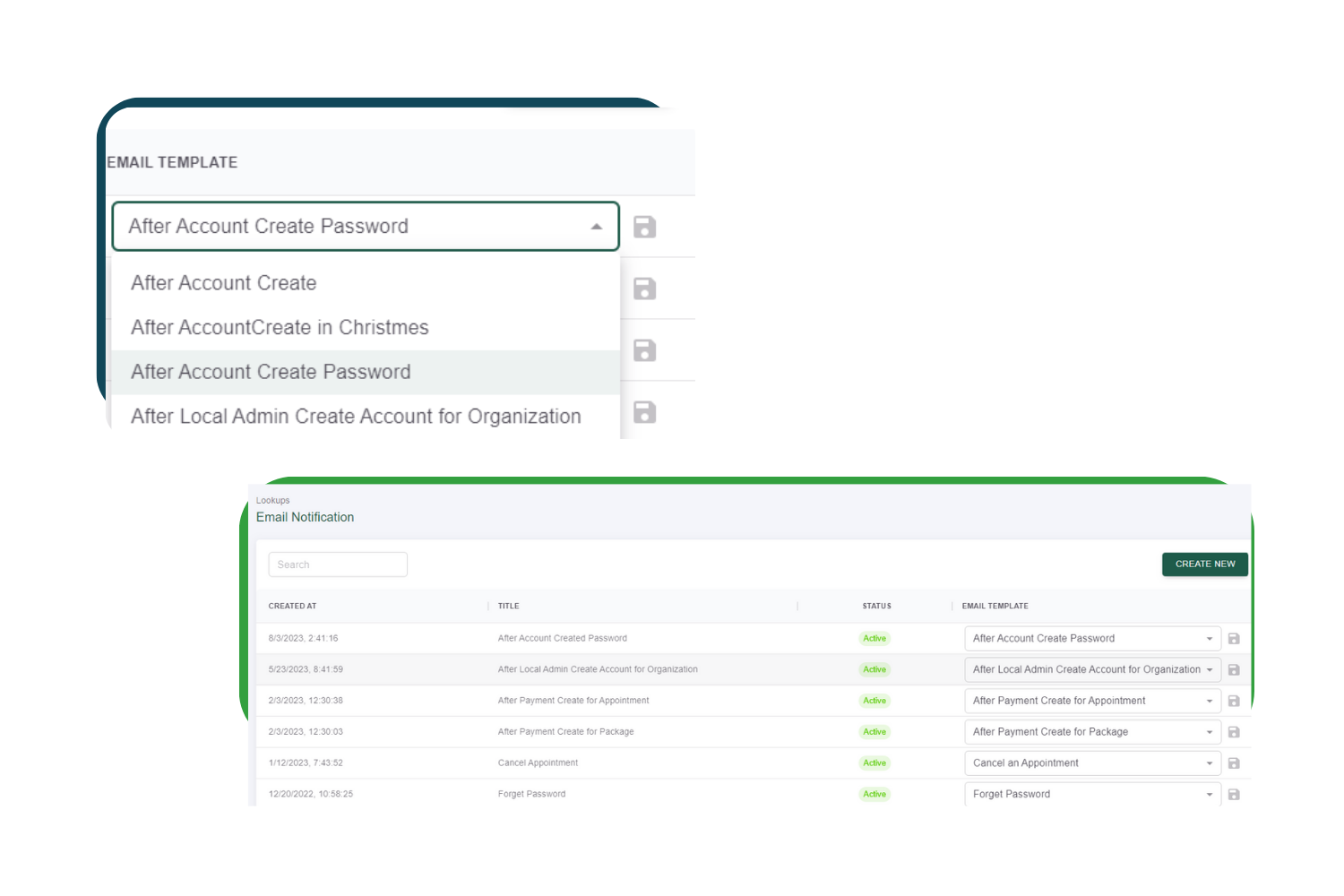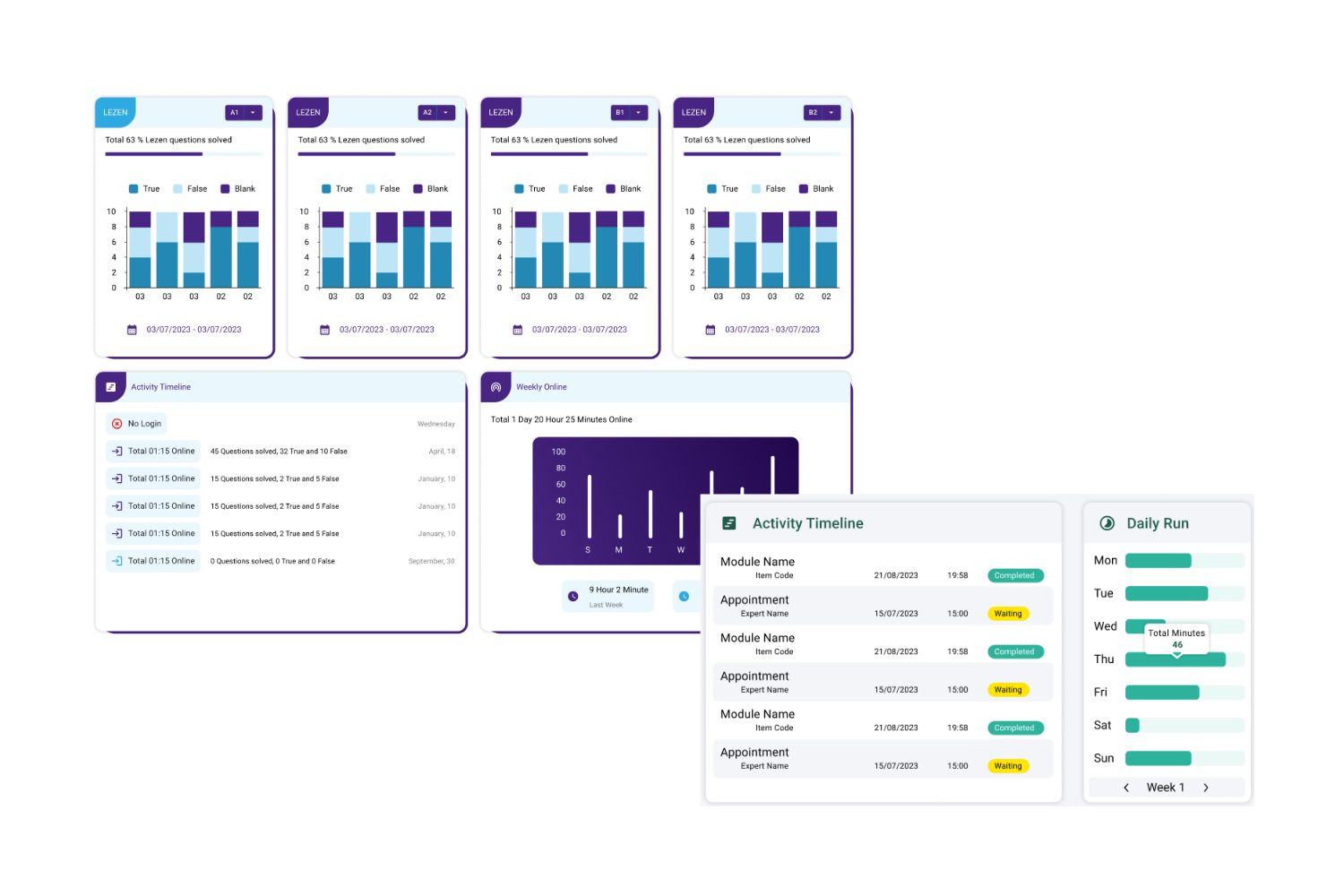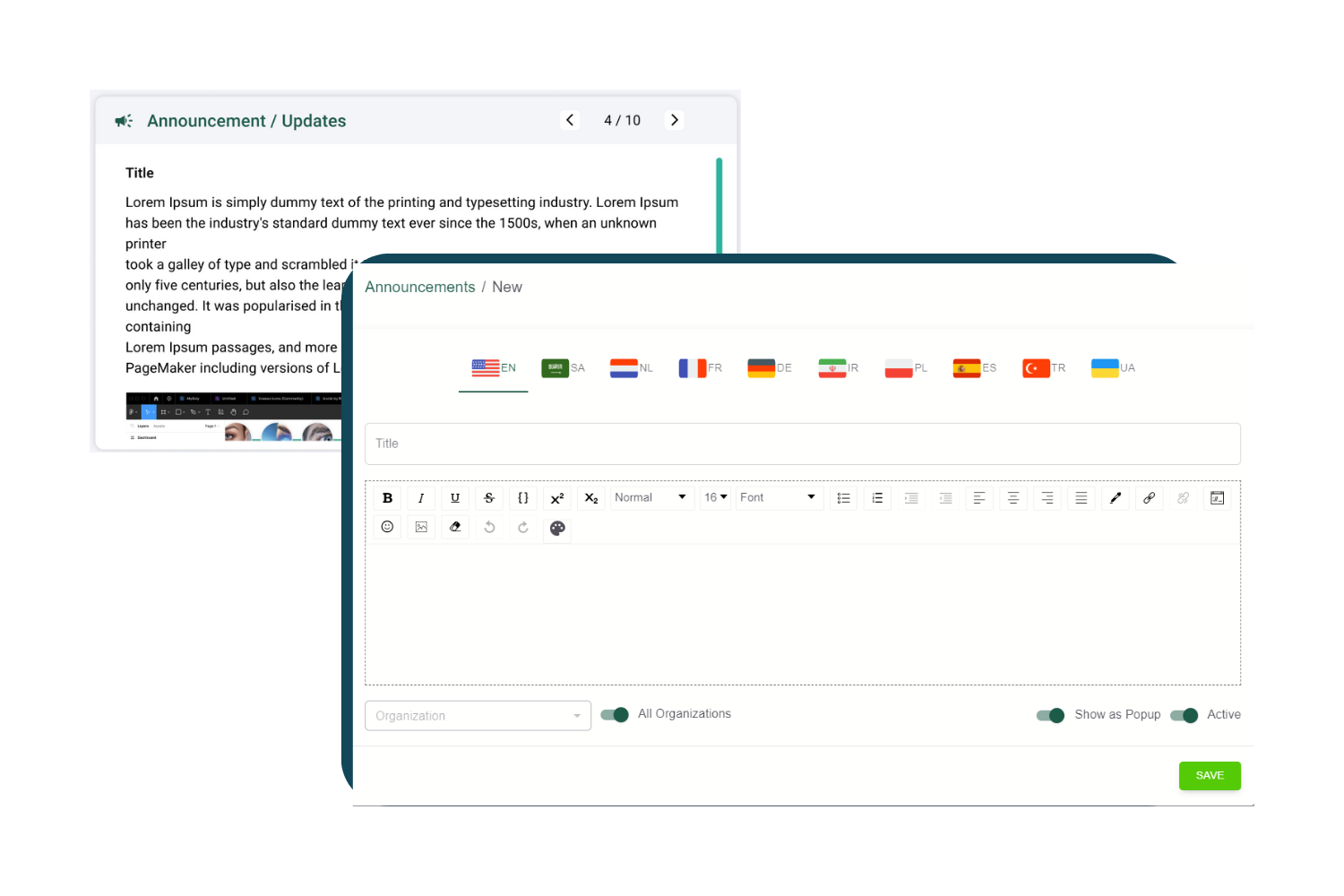 You can ensure that users are automatically notified when a new user is added when you create a new module or in any other situation you wish.
You can analyze the performance of your users' learning processes, and check criteria such as how long it took to complete which modules and the success rate.
When users are logged in, you can make announcements to any group or class at any time interval you want and inform them about innovations.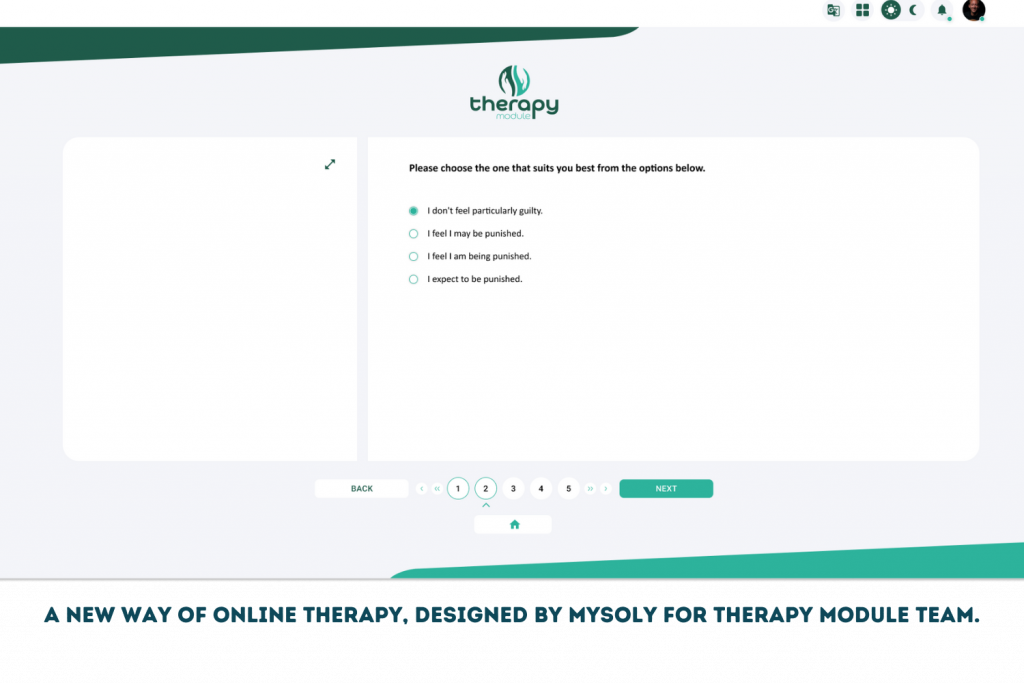 Therapy Module: The New Way of Self Therapy
Therapy Module is a unique digital platform designed to offer accessible and effective therapy modules based on EMDR protocol.
One of the key features that set Therapy Module apart from other online therapy platforms is our unique "content development" portal, which enables experts to develop customized therapy modules without requiring a software developer.
We're looking forward to start a new project
Let's take your business to the next level!
Check our other solutions to solve your problems with ease!
Test Master
LLM Integration
Custom API Integration
AI-Based Business Platforms
Technology Infrastructure
Working with cutting-edge technologies to design the future now
We use the latest technology to implement your wishes into fully customizable Mysoly solutions. It can be an AI-powered HR management tool or logistic management portal or maybe an e-learning solution for your employees or maybe all. No matter what it is for, and as we said before, our solutions are all tailor-made and adaptable to the unique challenges of your challenges.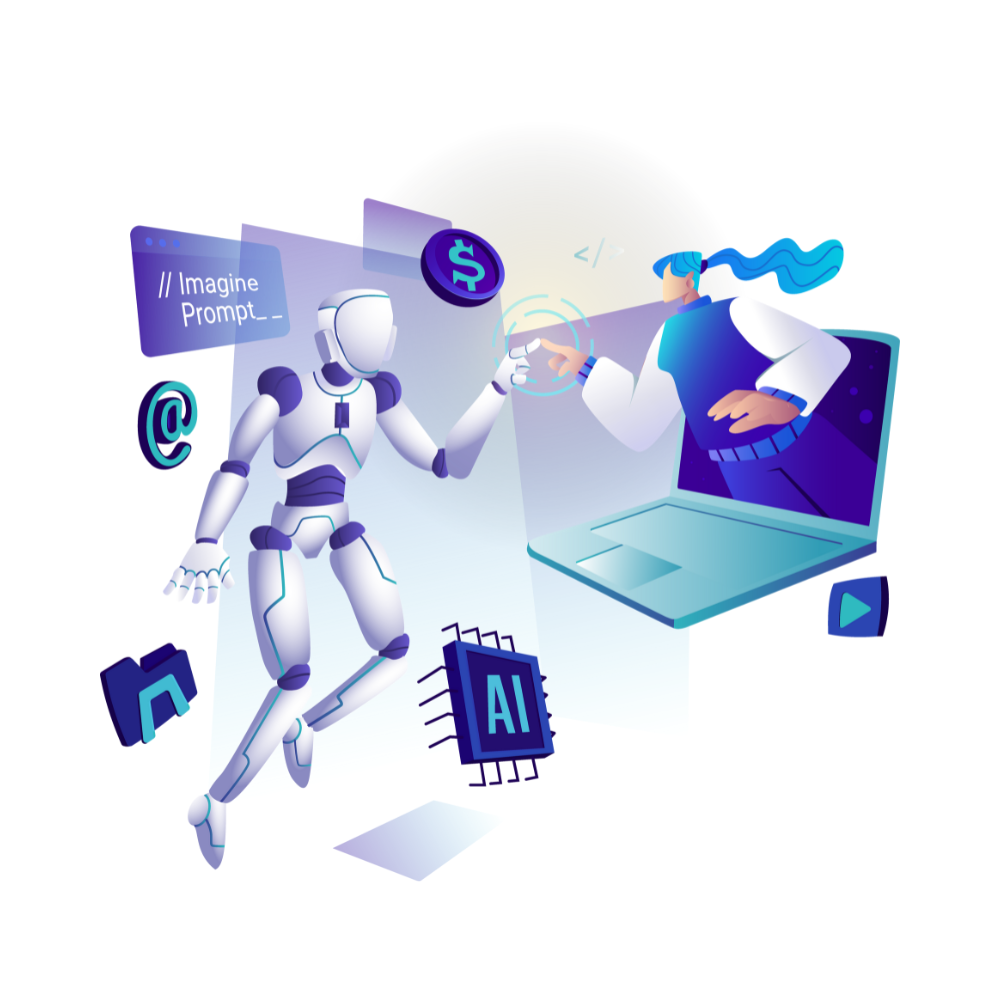 With a team of seasoned professionals, we bring extensive expertise in AI development, data analysis, and technological innovation to the table.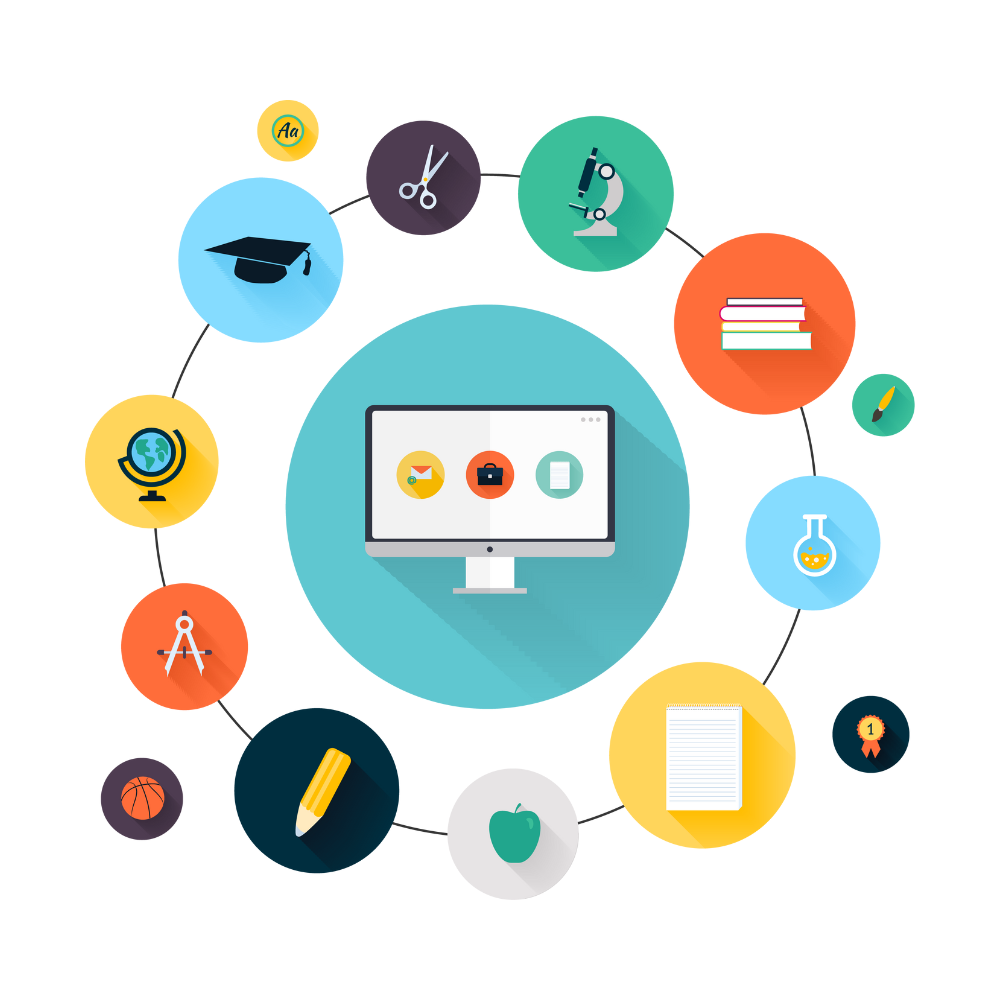 We understand that every business is unique. Our tailored AI-based solutions address your specific challenges and unlock new opportunities for growth.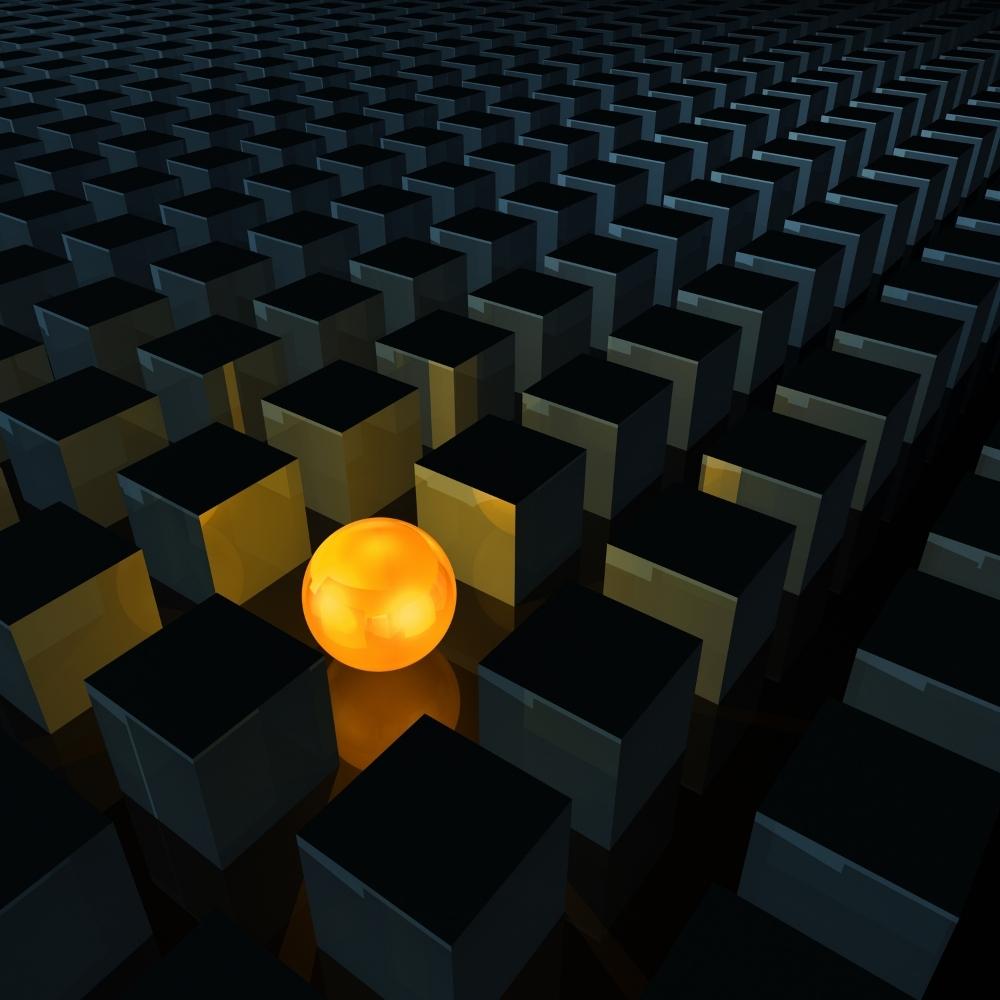 At Mysoly, we're not just following trends; we're setting them. Our innovative approach ensures that you're equipped with the latest advancements in AI technology.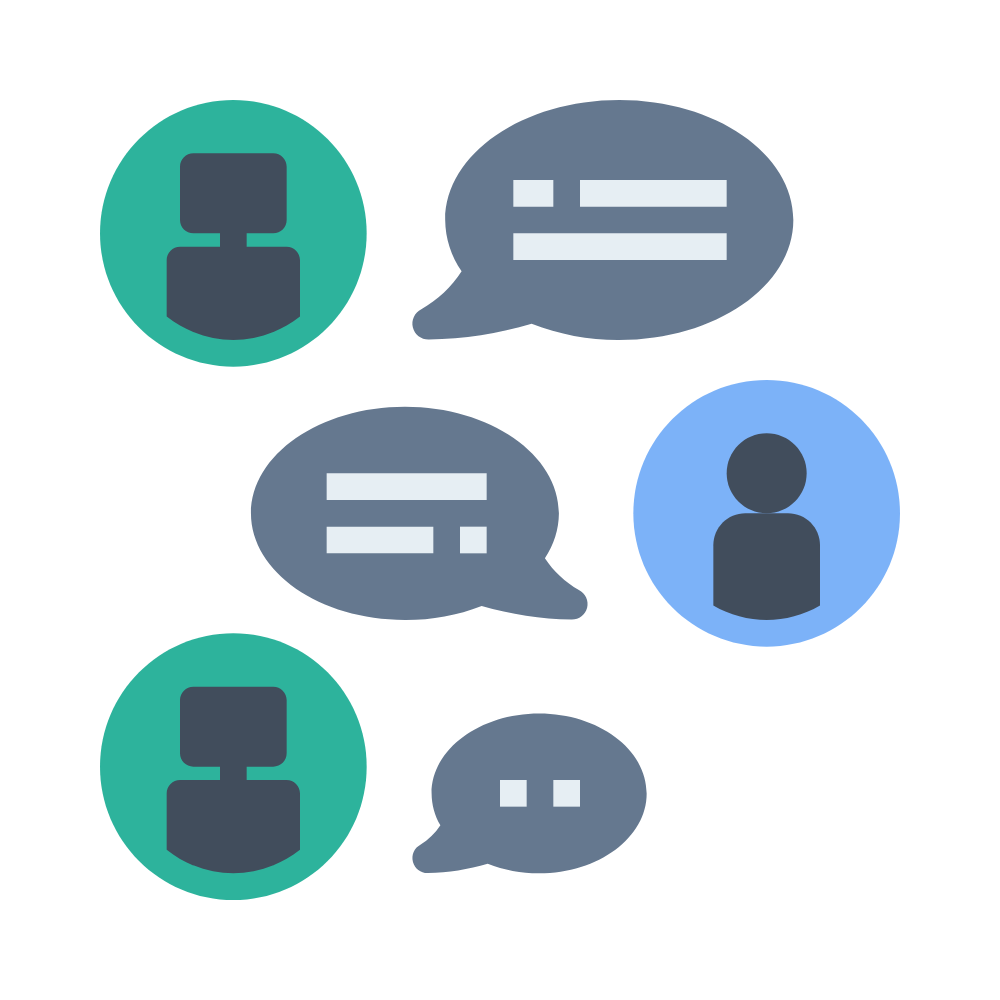 From initial consultation to deployment and ongoing maintenance, we provide comprehensive support at every step of your AI journey.
Customer-Centric Approach
At Mysoly, customers drive our innovation. We don't just follow trends; we anticipate them, offering you the best in AI solutions.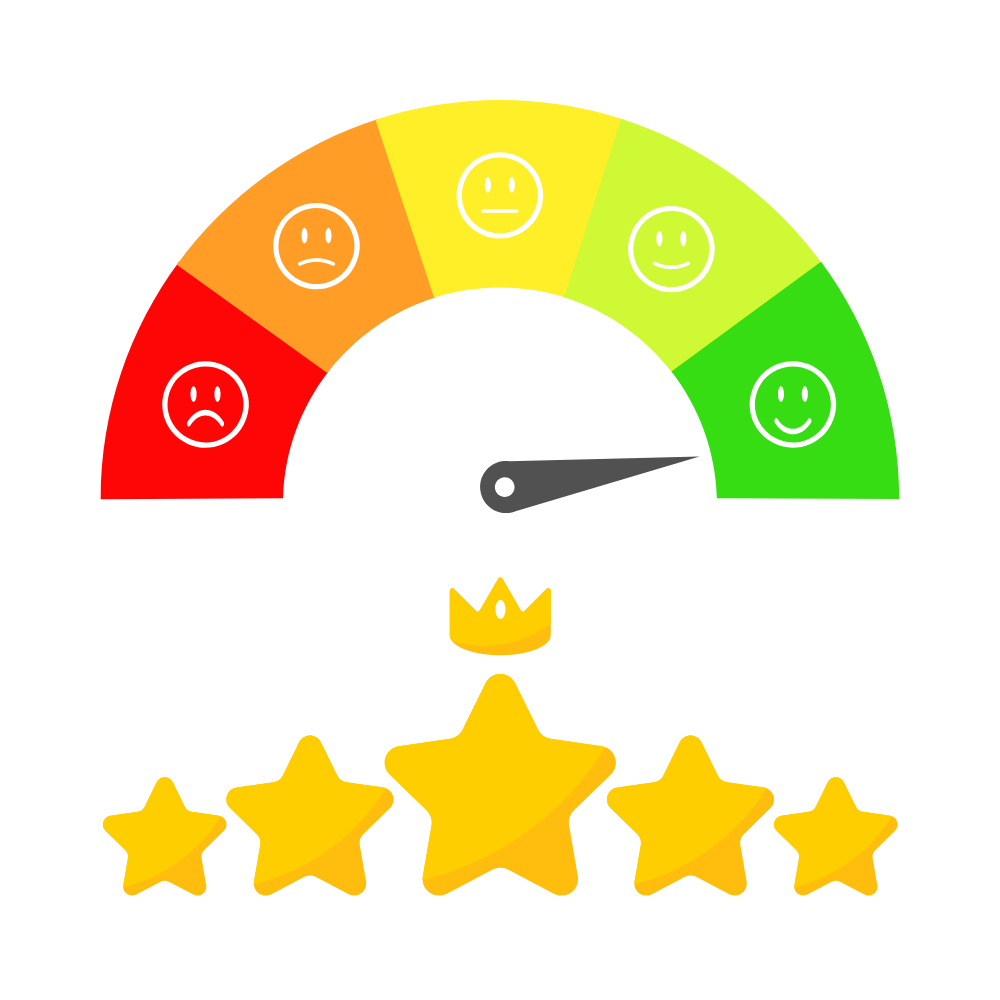 At Mysoly, we don't settle for mediocrity. Our unwavering dedication to the highest standards ensures that you receive the best AI solutions and services in the industry.